With hiking becoming more and more popular and new trails springing up all the time, deciding which one to choose from has never been more difficult, especially if you are a procrastinator, like myself! Yet one of the most popular treks, usually right up there, in the 'top hikes of the world' lists is fairly close to home and is a doable hike for anyone with a reasonable level of fitness and a 'can do' attitude.
The Tour of Mont Blanc, or the TMB as it is affectionately known, is an iconic trek showcasing awesome mountain scenery and giving a glimpse into what alpine life of yesteryear must have been like. The views from the ridges of the high mountains of the Northern Alps are simply too awesome to describe, the white peaks, that seem to go on for ever, standing out vividly against the deep blue sky, the rocky crevices and steep, sharp slopes of these massifs make you feel like you are walking on the top of the world. Then there is the crisp mountain air, especially in the morning, cooling your lungs as you inhale deeply, the serenity of the landscape, the captivating feeling of peace and of being at one with nature, the dangerous, natural beauty that can only be found high up in the mountains. You could well be a million miles from humanity and its Uncle.
How fit should I be?
For the TMB you don't need to be an ultra hiker or top athlete, although with 10,000 m of ascent and descent along its 170 km track you do need to be pretty fit and have some good footwear. There are also some route variants, mainly high routes versus the traditional route and sometimes you can cut corners a bit, but while some complete the trek in 4 days, this is very difficult, 8 days or 11 days is the norm, which equates to around 15 to 21 km of hiking a day, plus the upping and downing….you get my drift. With mountain refuges and huts scattered throughout though, you can really tailor your itinerary to suit yourself and your capabilities, after all this is supposed to be fun so take your time to appreciate and enjoy your new wallpaper!
Fauna and flora on the trail
Look out for chamois and boquetins on your trek, they are wild mountain goats, often seen perching, incredibly, on the sides of the steep mountains. Boquetin males can weigh up to 100 kg and have large curved horns while the females are smaller and tend to live in groups. Chamois horns are shorter and straighter, just hooked at the tips. Whilst neither are dangerous, they are wild animals and must be left alone. Marmots can often be seen sunning themselves on a rocky outcrop or scuttling over the alpine prairies. These cute, large ground squirrels are found between 800 and 3,200 m up. Talking of up, in the skies look out for red kite, or, if you're lucky, a bearded vulture, circling overhead on the thermals. With its massive wingspan, between 7 and 9 feet, you shouldn't have too much difficulty identifying it! The alpine meadows are a burst of colour and gorgeousness in springtime, with wild flowers of all colours. Look out for the striking blue Gentian, the white Edelweiss and the rare Yellow Bellflower. Myrtilles, (wild blueberries), are fairly abundant in late summer, growing down low on the slopes.
Cheese Galore!
The mountains must surely be a cheese lovers paradise! Abondance, Beaufort, Reblochon and Tomme all come from this area of the Alps and are a mountain staple. Try a cheese fondu, a tartilflette, made with cheese, potatoes and cream, or a raclette, again, melted cheese but served with potatoes and meats. All are very popular mountain dishes, but expect them to be heavy on the stomach and don't reckon to walk too many kilometres afterwards! Make sure you try a famous tarte aux myrtilles before you leave too.
Where to Stay
The TMB has more than its fair share of accommodation options; hotels, hostels, gîtes, mountain refuges, huts and campsites, something for all tastes, budgets and desires in fact. In the towns more options are available, campsites will have hot showers and usually Wifi, though there are a couple of sections where there aren't any campsites on the trail. Expect to stay in a mountain refuge a couple nights, they are a magical and unforgettable experience and no mountain trek would be complete without a refuge stay. They offer half pension, so bed, dinner and breakfast can be sorted and dinner, while simple, is usually surprisingly good and breakfast consisting mainly of breads and cereals. Dormitories are basic, have shared bathrooms and bunks, but you get to spend your evenings with other hikers, watching the sunset surrounded by remote and stunning mountain scenery before hunkering down in your bunk. Take a sleep sheet, ear plugs and an eye mask though, there is nothing worse that a snorer in the midst, especially when you need your sleep! Phone coverage may not be available so don't fret if you can't check your emails, think of it as a remote experience proper! The refuges do tend to get booked up very early so you will need to reserve your bed well beforehand or use a local guide, which should ensure a hassle free experience. If spontaneity is your thing, wild camping is permitted in France and Italy but not allowed in Switzerland, although obviously that will mean the added weight of a tent to carry.
Tell me more!
The TMB is a circular hike, twisting around the base of the mighty Mont Blanc, western Europe's highest mountain at 4808 m. It can be hiked in either direction, though the anti clockwise direction is the most popular, this may be because the spectacular views of the Mont Blanc massif from Le Brévent, which many say are the best of the trek, is saved for the end stage. Along its route the trail takes you through three countries; France, Switzerland and Italy, each with its own unique charms and culture and pretty alpine villages. Although you can begin the trail in many different places the most usual start and finish points are from Chamonix, Les Houches, a small town down the valley from Chamonix or Les Contamines. Chamonix is the spiritual home of mountaineering on the French side of Mont Blanc and is twinned with Aspen, Colorado, amongst other towns. Mountaineers from all corners of the world come to this mountain Mecca and for good reason; it is home to 'La Vallée Blanche', perhaps the most famous off piste ski track in the world, plus it has a long history of snow sports; it was the site of the very first winter Olympic Games in 1924. Summer in Cham is just as good as the winters though, it's a hikers paradise, with cablecars taking you up to the peaks for some great day trails to follow in the footsteps of mountaineering legends. While the trail doesn't technically pass through Chamonix itself, it is such a captivating, lively town, with a buzzing vibe about it, that most TMB hikers spend a few days either before or after the trek. The ever present presence of Mont Blanc looming down over the alpine town and all the other snow capped peaks, along with all the activities on offer make it an excellent place to explore.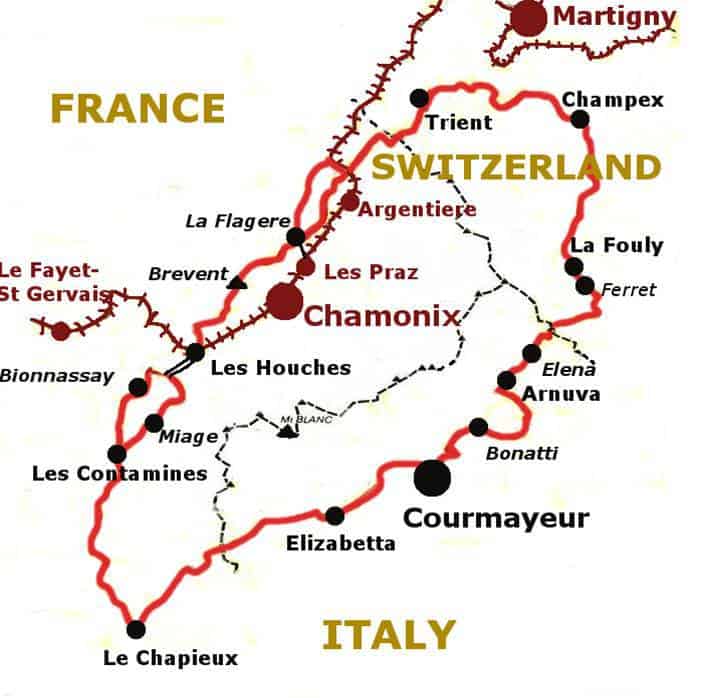 To get onto the trail then from Chamonix, you either take the cable car up to Le Brévent, or if you are feeling really electric, skip the cablecar and do the kilomètre vertical, which is exactly what it says! Here you will officially get onto the trail and your destination is Les Houches, a small picturesque town, down the valley from Cham. Either stop in Les Houches for the night (sensible option) or carry on to Les Contamines (hard option). When leaving Les Houches, you have a choice of route options; the traditional route starts from the town itself, via wooded steps taking you through lightly wooded areas to the Col de Voza at 1,653 m. Once at the col it is a gentle descent down the Montjoie valley, through the villages of Bionnassay, Le Champel, La Vilette, La Gruvaz and Tresse, before putting your head down in Les Contamines for the night. For the high route option, you either hike up or get the Bellevue cablecar at Les Houches, which takes you to 1800 m and from there you head towards the Col du Tricot, crossing the Bionnay Glacier via a suspension bridge, then following the trail down to Les Contamines. This route, while giving better views is longer by nearly three hours so you would have to leave early in the day from Les Houches, and is also much harder; an extra 730 m (2,400 ft) of elevation gain and is not advised in bad weather. Either way, you finish in Les Contamines.
The next stage starts when you leave Les Contamines. Look out for the Chapelle Notre Dam de La Gorge, an old baroque church built around 1700 and used as a stable during the French Revolution. With its lavish baroque deco it is well worth a quick peak inside before continuing along a track to Pont Roman, an old roman bridge crossing a rocky canyon. The ascent today is a tough one; up and over the Col du Bonhomme, from where you will see the Vanoise National park, then another ascent over the Col de Croix de Bonhomme before descending down to Les Chapieux. If this all seems like too much for you, you can break the hike at the Refuge La Balme, roughly 2.5 hours from Les Contamines and leave the ascent of the two cols for the next day. There is also a designated wild camping area next to the refuge and food is served there, but beware; there are no shops so resupplying is not possible.
Leaving Les Chapieux, it is not too long before you pass the Refuge des Mottets and leave France entering into Italy at the Col de la Seigne after a not too demanding climb. Here the view is awesome, on a clear day you can see as far as the Grand Col Ferrat, three whole stages away! To the left, check out the grand Mont Blanc massif in all its glory. Descend along the track to the Rifugio Elisabetta, a great place to rest for the night.
Next up is the town of Cormayeur, in the Aoste Valley. Think proper Italian pizza for dinner! Beginning with a descent towards Val Veny, the huge glacier to your left is the Glacier du Miage. The trail then climbs and leads you along the slopes of Mont Favre where you will get superb views of Mont Blanc, the Grandes Jorrasses and Mont Dolan. When you begin to descend on a ski run, you are on the home run to Courmayeur for a well earned Aperol and perhaps a bit of hotel luxury for the night. There are no campsites in this bustling town; the nearest is Hobo Camping at Val Veny, a 10 minute bus ride from Courmayeur. Either break off from the trail before the last descent or bus it from Courmayeur after you have stocked up on provisions for the evening.
Many people take a rest day in Courmayeur and this is a good option if you have the time. It is a lively town with lots of reasonably priced restaurants, eating out here is cheaper than in Cham, plus the Relais Mont Blanc, a stones through from the town is a luxurious spa and well being centre. What better way to spend a rest day, pampering those poor legs and feet! Oh and don't forget to have an Italian ice cream, said by many to be the best in the world.
Leaving Courmayeur, you go towards Val Ferret on the Italian-Swiss border. A lovely place to spend the night is at the Refugio Bonatti, a little over an hour's walk from Val Ferret through lovely larch woods and amazing alpine meadows. Set at the foot of the Grandes Jorasses and directly opposite the Fréboudze glacier, it is in a truly magnificent setting. Upon leaving the hut, you continue up the Ferret Valley to ascend the Grand Col Ferret, finishing in the pretty alpine village of La Fouly.
The hike between La Fouly and Champex is a gentle one, at last! Passing through old Swiss farming hamlets, wooded glades and peaceful meadows, you feel that you have entered into a land that time forgot. A quick dip in the stunning blue waters of Lac Champex perhaps, before spending the night in Champex itself.
Then its onwards and upwards; the highest point of the TMB is today, the notorious Fenêtre d'Arpette, a small mountain pass etched into a rugged ridge at 2,665 m. You wii experience the best alpine walking in the world, so get your camera out, before descending to the village of Trient. At the Col de Forclaz, look out for the Fort de la Forclaz, a second world war fortification, disguised as a mountain chalet.
Leaving Trient you are now on the homeward run, returning to France via the Col de Balme and hiking along the ridge of the Aiguilette des Possettes, before stopping in the small but lively town of Argentière. A lovely little restaurant tucked up in the woods near the Grand Montets ski station is 'La Cremerie du Glacier'. Known for their croute, this is yet another way of serving melted cheese and bread, albeit a delicious one.
The last leg of the TMB, will see you leaving Argentière, direction Chamonix via the beautiful Lac Blanc and La Flegère, before returning to Le Brévent and then descending back down into Cham and civilisation. A shot or two of Genepi is a must, in recognition of your awesomeness at completing this iconic trek!
If you are looking to treat yourself having completed this challenge, an ideal way would be an afternoon or evening session in the QC Thermes, a wellness centre at Cham. Think outside heated pools, surrounded by snow capped mountains, restorative foot spas, salt steams, saunas, relaxation rooms and more. Or, if finishing the trail has left you hyped, why not book a paragliding experience and see the valley from above! Check out the MBC bar with its home brewed beers and Monkey Bar in Cham Sud, a lovely bar/restaurant with weekly deals, veggie options included. Traditional Savoyard restaurants are a plenty in the town and can be a bit on the expensive side, but a good family run one is Le Sérac in the main high street. If you are sick of breads and cereals for breakfast, the very small Bluebird café, again in Cham Sud does lovely breakfast dishes and evening meals from around the world for a decent price. Whatever you decide to do afterwards, one thing is for sure, you will leave the mountains feeling invincible and ready to start planning your next challenge!